Service
Over many decades, HYTORC screw-connection-systems and hydraulic components have proven to be reliable and sturdy. In the rare case of problems, do not hesitate to contact our repair and spare parts service for help and supervision.
Product take-back and recycling program
Electrical appliances
Manufacturer obligations
In Germany the provisions of the European WEEE (Waste Electrical and Electronic Equipment) Directive (Directive 2012/19/EC) are implemented by the Electrical and Electronic Equipment Act (ElektroG).
According to the ElektroG, manufacturers, distributors and importers who place electrical appliances on the market in Germany are obliged to register with the stiftung elektro-altgeräte register (stiftung ear) and to pay fees to them for the provision of collection containers and the collection of old equipment. The stiftung ear is the "common body of manufacturers" as defined by the ElektroG. It has been entrusted with sovereign tasks under the ElektroG by the Federal Environment Agency.
Further information can be found here.
HYTORC Technologies GmbH is registered under the WEEE registration number 97983497 in the manufacturer register of stiftung ear.
Information on recycling
Electrical equipment used exclusively for commercial purposes (B2B equipment)
B2B equipment includes electrical equipment that is intended exclusively for commercial use because of its intended purpose, special conditions or requirements for its use, or because of its size.
B2B equipment is marked with the symbol of the crossed-out trash can and must be disposed of separately from household waste.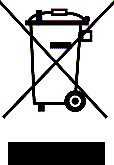 Please note:
Batteries/accumulators that are not permanently installed in the electrical (electronic) equipment must be removed before disposal and disposed of separately.

The end-user is responsible for deleting personal data on the old devices before disposal.
Please contact us for further clarification regarding the return of the equipment. Contact